"You disrupted my entire flight to Florida last evening…and kept disrupting it after I checked-in to the hotel. The book is absolutely fabulous – where the hell did you ever come up with all the details…"
Disruption!
In the midnight darkness north of New Orleans, the towboat's routine trip up the Mississippi River becomes something far more deadly. Captain Charlie Graff is suddenly thrust into the middle of one of the most twisted domestic terrorist plots ever conceived. He has to use his skill as Captain to protect his crew, his boat, his river, and his country. But he is not alone.
On land, already overwhelmed FBI agent Emily Graham finds herself thrust into the role of leading the pursuit of the terrorists. Her journey leads to dead ends and dead witnesses. She discovers her trust in her team-members is wrong, the terrorists are not who they say they are, and that the people who actually initiated the attack don't even exist.
This tense, fast-paced thriller is a thousand mile journey with more twists and turns than the river that carries it. A story that begins and ends with betrayal. Betrayal that has but one goal: Disruption.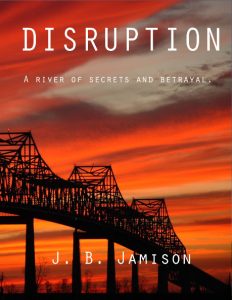 J. B. explains the creation of Disruption.
My dad was a towboat captain. That is all he ever needed you to know. If he were to introduce himself to you, it would go like this: "I am a towboat Captain. I am a Captain, and I will BE a Captain until two weeks after I am dead and gone."
I first told him about the idea for this book twenty years ago, and he laughed at it. He said it was silly, it was impossible, and it would simply never happen. In our final conversation last year, two weeks before he died, he asked if I remembered that story I had told him a long time ago. He said it had scared the hell out of him, was absolutely possible, and he just didn't want to think about it while he was still out there. He told me I should write it.
The river and towboats have been a part of my life forever. I am one of the few men on my father's side of the family who did not go to work on the river, and eventually become a towboat Captain. Growing up, I was introduced to 'river rats' he worked with from every walk of life and every part of the country. While no characters in this story are based on any specific person, I am quite sure that each of my characters carries a few pieces of those real men and women I met and admired.
The life of a towboater is a unique one, with unique benefits and pressures on the towboater and his or her family. It is a culture of hard work, loneliness, close friendships, dangerous actions, a forceful sense of humor, and blunt language. I have several friends and family members who are still "out there", continuing a tradition that has defined my family for four generations now. The words and actions of the towboaters you meet in Disruption are offered as a nod of respect and appreciation to those people who helped raise me and taught me how to live a full life.
"The twists and turns reveal secrets and lies that are unimaginable. This is a new page in domestic terrorism."
"My advice is to bring up several pizzas from the freezer and take the phone off the hook, you won't want to put this book down until the end."
"Good Golly Miss Molly!!! Finished it last night and you sure know how to spin a good yarn!"
"I finished it. I loved it. I want more. Please?"
Read J. B.'s blog to learn about the role the official navigation maps played in writing Disruption. Better yet, use the maps to follow the story as you read, and enjoy even more Disruption!
"There is a series of novels built around these characters, for sure…you have a real gift for bringing them to life and make the reader really despise the bad guys…"
Have a look at what life on a real towboat is like with these videos from Captain Kyle. More "marktwained" videos are available on YouTube.
About the Author: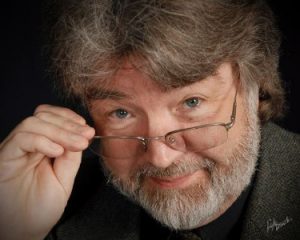 J. B. Jamison is a life-long believer in the power of stories. First as a pastor, then educator, then creator of Centers of Innovation at multiple universities, and finally as the Director of a national Game and Simulation academic degree program, stories have played a central role in his work and have remained a passion throughout his life.
A published author and long-time gamer, he has consulted with major game development companies and developed a series of learning games for children.
Most importantly, John is the proud grandpa of Benjamin William and Emily Grace, the future rulers of the real and virtual universes.
Disruption is his first novel.